COS'È SD2IEC?
L'SD2IEC è un dispositivo per lo storage che usa una comunissima scheda SD/MMC ed è in grado di interfacciare il bus IEC (CBM serial bus). In genere l'SD2IEC è basato su un microcontrollore ATmega644 della famiglia dei micro Atmel AVR.
Lo scopo principale di un dispositivo SD2IEC è rimpiazzare il Commodore 1541 – 1581 e Datassette, cioè il disk drive del C64 (o dei C64DTV, C128 no burst mode, C16, etc.).
Una scheda SD da 4GB può contenere praticamente tutto il software prodotto per il C64.
Cose da Scaricare
PREPARIAMO L'SD2IEC
Il mio SD2IEC è basato su un Atmega 1284p. E' color "crema" (lo avevo preso per un C128, che è appunto crema). Ma ne esistono versioni in grigio e beige (i colori dei vari PC Commodore). Per i più esigenti è possibile ordinarne uno fatto con la plastica originale riciclata di un vero C64!
Aprire SD Card Formatter
Formattate la scheda SD come FAT16 o FAT32.
Scaricate CBM FileBrowser V1.6: si tratta di un program launcher per C16/plus4, C64/C64DTV, C128 and Vic-20 compatibile SD2IEC.
Scompattate CBM FileBrowser e copiate tutto il contenuto che trovate nella cartella programs nella vostra SD vuota.
poi copiate le cartelle complete come sono c64dtv, disk images, sources nella vostra SD.
Create una cartella per i vostri giochi, esempio Games, Roms, C64 e poi copiateci dentro i vostri games
vi ritroverete la vostra SD composta cosi: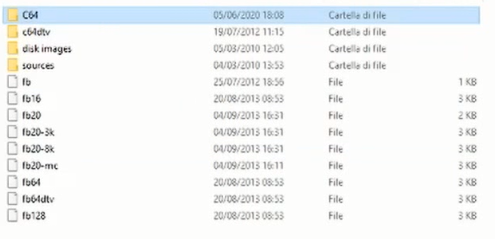 Per completezza queste le caratteristiche del firmware dell'SD2IEC:
Supporto per nomi file FAT. Supporto per SD e SDHC formattate FAT12/FAT16/FAT32. Supporto per le Subdirectory (CMD command syntax). Supporto per l'accesso ai settore dell'SD card direttamente dal C64.
Supporto per immagini di tipo D64/D71/D81/M2I, PRG/Poo. Le T64 non sono supportate. Supporto limitato invece per REL.
Supporto per Turbo Disk AKA Fast Load AKA Speeddisk fastloader. Supporto per JiffyDOS fast serial bus protocol, the Final Cartridge 3 fastloader/fastsaver, DreamLoad, Exos, GEOS.
Supporto per il bottone esterno "disk change".
Supporto per tutte le funzioni tipiche di un IEC (LOAD, SAVE, OPEN, GET, PUT, CLOSE, …).
A questi punto la scheda SD è pronta. Inseritela nel SD2IEC. Collegatelo al vostro Commodore (spento). Accendete tutto.
Per caricare il CBM FileBrowser
Per caricare il CBM FileBrowser è sufficiente il comando DOS che tutti conoscono:
LOAD "*", 8 <ENTER>
RUN <ENTER>.

Vi appare un menù con il contenuto della vostra scheda SD: dovete solo navigarlo alla ricerca della cartella che avete creato per i vostri Games. Per navigare nel menu, utilizzare i tasti cursore o il joystick nella porta2.
| | |
| --- | --- |
| Chiave | Funzione |
| CURSORE SU o JOY SU | Voce precedente |
| CURSORE GIÙ o JOY GIÙ | Voce successiva |
| CURSORE DESTRA o JOY DESTRA | Pagina successiva |
| CURSORE SINISTRO o JOY SINISTRO | Pagina precedente |
| PULSANTE DI RITORNO o FUOCO | LOAD and RUN |
| F5 | Pagina precedente |
| F6 | Verso l'alto |
| F7 | Pagina successiva |
| F8 | Verso il basso |
| S | Ordina (abilita / disabilita) |
| Q | Esci da base |
| SPAZIO POSTERIORE | Uscita dir |
| ESC | Ripristina |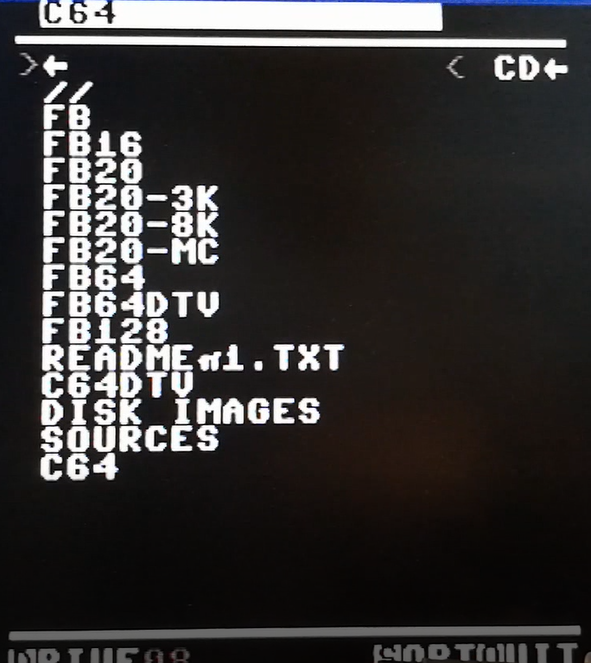 Il tempo di caricamento di ogni immagine ROM (Gioco) è un pochino più basso rispetto a quello dei floppy drive originali , per avere una velocità maggiore basta collegare al vostro C64 una Fastload: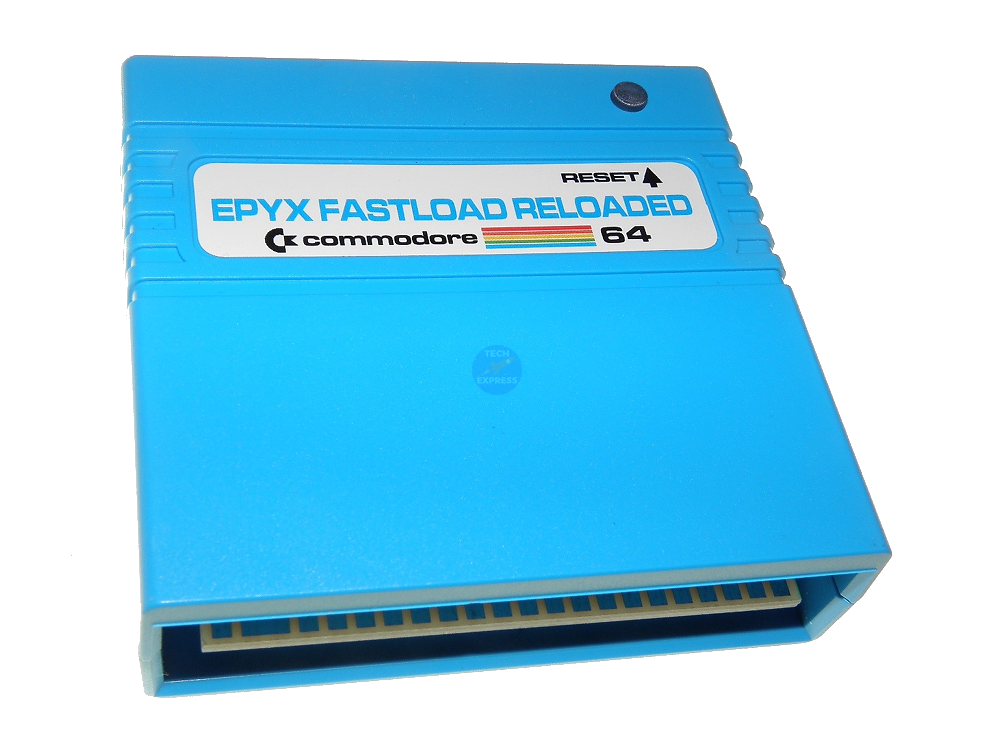 I PROGRAMMI MULTI-DISCO
Se volete caricare giochi multi-disco avete alcune alternative: trovate una singola immagine disco .PRG che sia lanciabile da una cartella oppure una singola immagine disco .D81 equivalente ad un disco di larga capacità. Se invece doveste trovare più files .D64 (una per disco originale) dovete seguire una procedura più articolata:
E' necessario che tutti i files del programma .D64 siano in una stessa cartella
E' necessario che sia presente un file AUTOSWAP.LST che altro non è che un file di testo semplice contenente la sequenza dei vari dischi (ogni riga una immagine disco). Ad esempio:
IMAGE_A_FILE1.D64
IMAGE_A_FILE2.D64
Usate il filebrowser per aprire la cartella contenente tutti questi files.
Premete Q per uscire sulla shell DOS del Commodore.
Ora premete il pulsante del Disk Swap (quello vicino al cavo seriale) per dire all'SD2IEC di usare il primo D64 della sequenza
Caricate il primo disco con il solito comando:
LOAD"*",8,1
RUN
Quando vi viene chiesto un altro dischetto premete nuovamente il pulsante del Disk Swap. Ogni click del pulsante caricherà il file successivo nella sequenza descritta si AUTOSWAP.LST.
Ora godetevi i vostri giochi del C64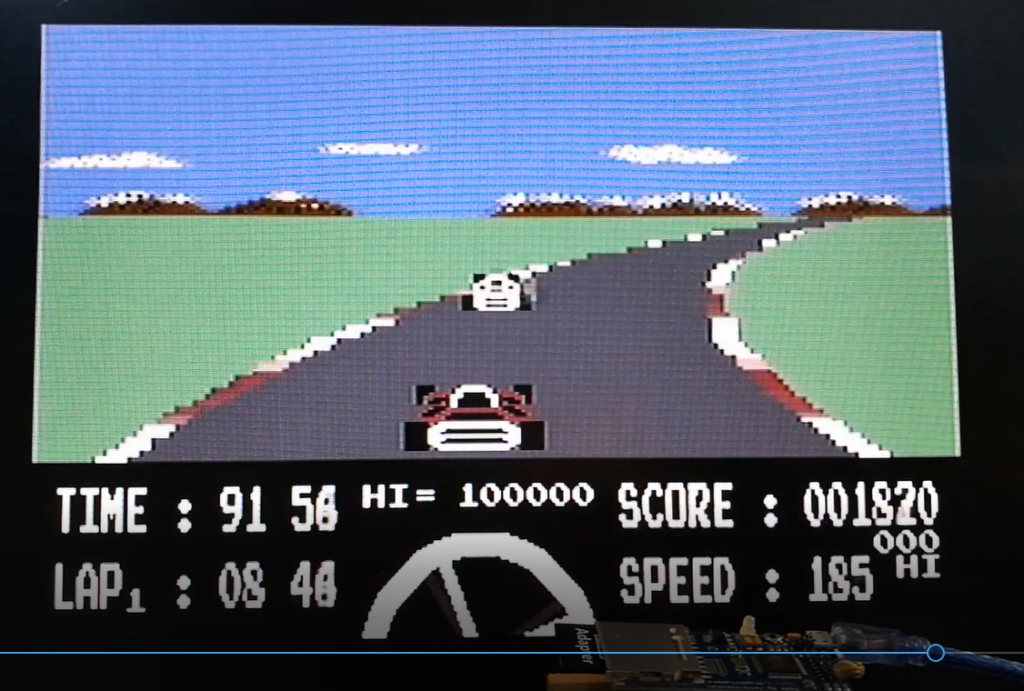 Guarda il video Tutorial